Purchase ACE: Appetite Control & Energy 30 Day Supply (60 count bottle) at Retail

Product in stock

Sales Price: $60.00 Free Shipping

Product Description
ACE Appetite Control & Energy "ACE Diet Pills"
30 Day Supply (60 ct Bottle)
Saba's new and improved ACE formula provides all you need for weight loss and energy in one supercharged product.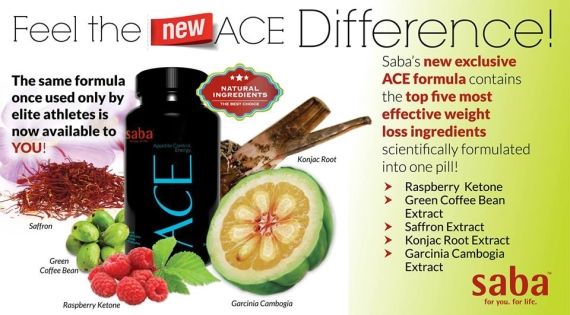 You'll get all-day energy and superior appetite control taking just two capsules per day! No jitters, no nervousness. Just sustained vitality and clear mental focus— plus our best scientifically engineered appetite control yet!
With Natural ACE you will reduce your appetite, eat less and be energized throughout the day. The combination of reduced caloric intake as well as increased energy and activity leads to successful weight loss!
Achieve your goal with Natural ACE
HUNGER PAINS - GONE!
CRAVINGS - GONE!
UNCONTROLLABLE SNACKING - GONE!
UNWANTED POUNDS - GONE!
PLUS SMOOTH CLEAN ENERGY!
Natural source ingredients contained in ACE:
Raspberry Ketone - helps regulate metabolism, and breaks up fat inside cells so it burns faster.
Green Coffee Bean Extract - is a natural source of energy and antioxidants, slows absorption of fat from food.
Saffron Extract - curbs appetite and boosts serotonin, the "feel-good" chemical in the brain.
Konjac Root Extract - helps you feel full, lowers cholesterol and blood sugar as well as slows absorption of sugars.
Garcinia Cambogia Extract - contains hydroxycitric acid (HCA), a chemical that researchers say can double or even triple weight loss.
Plus, we've added L-carnitine, a powerful fat mobilizer to help you shed pounds and inches even faster!
You can view a complete list of ACE Ingredients below as well as Frequently Asked Questions:
When you feel better – you look better – and perform better!
Enjoy a healthier lifestyle with increased energy and say goodbye to those unwanted pounds – with ACE!
****  How To Get the Best Deal On ACE Diet Pills! ****
Become a preferred customer & get ACE at a huge DISCOUNT !
Hello from Ace4Energy! Thank you for your interest in ACE Appetite Control & Energy, also known as "ACE Diet Pills" or "Natural ACE Supplment".
Steven & Donna are Authorized Distributors for Saba, parent company of ACE. We would like to share with you the secret to obtaining the very best deal on your purchase of this much loved and extremely effective new natural supplement.
If you need help sticking to a low calorie diet while still having energy to work and exercise, ACE is your solution.  ACE Appetite Control & Energy ("ACE Diet Pills") are available to the general public at a Retail price of $1 per unit or $60 per bottle.  The company, Saba, is very strict about offering ACE at this Retail price online (if you see it on EBay or Amazon at a lesser price, it is probably not the TRUE product!! There are many cases where people have purchased from these sites and received a  counterfeit  of the true product).
However, there is a simple way to get the very best deal possible on your purchase of ACE. Saba offers a fantastic deal that anyone can take advantage of!  On your first order you can get a 60 count bottle of ACE plus seven, 2 count sample packs for $59 plus tax and shipping.  That 74 pills total!  Also, on your second order, the price goes down to $50, plus tax and shipping, for the same 74 pills (less than a $1 per pill). 
All you need to do is let me know that you would like to become a "Preferred Customer" of Saba (you can call me at 615-332-5201 and I will set you up right over the phone!) You can also quickly register online:
For only $59.00 (+ship/tax), you will receive the following:
One Bottle of ACE (60 pills - A One Month's Supply)
Seven Sample Packs (2 pills each - Great for traveling or to share with your friends)
That is a total of 74 ACE pills!
The ability to purchase any of the Saba Products Wholesale via your very own website
The ability to make a second income if you choose
You will also automatically receive the same order (bottle of ACE and 7 Sample Packs - 74 pills total) every month right to your door for only $50 (+ship/tax).
The best part is that if you decide that you do not want to take advantage of the convenience of your monthly shipment, you can cancel it at any time (up to 48 hours before scheduled to ship) with no fees whatsoever!. You can also personally change the date that your receive your shipment, skip a month if you need to, substitute other terrific Saba products and even cancel your monthly shipment at any time (up to 48 hours before scheduled to ship), with no additional fees via your personal Saba website. Your credit card will not be charged for your monthly order until it ships!
 Additionally, as a preferred customer, Saba offers a 30 Day Money Back Guarantee on your purchase. Just return the unused portion to SABA, and they will refund your money, no questions asked.
Sound good?!
Call us today at 615-332-5201 and we will ship out your order usually the very same day. You can also enroll securely online:
Delivery usually takes anywhere from 3-5 days, depending on your location.
We have sample packs available.  Give ACE a try, ORDER NOW!
If you have any questions, please give me a call! ACE has changed our lives in so many ways and we would love to share our ACE story with you!
Get the best deal that you possibly can on your ACE today!
ACE – 10 Day Energy Pack

(2 Count x 10 Packs= 20 pills)

Product in stock

Sales Price: Sales Price: $20.00


ACE – 5 Day Energy Pack

(2 Count x 5 Packs= 10 pills)

Product in stock
Need a second income? Become Your Own "Boss" Today!
Start selling ACE?
You can register as an Authorized Distributor, join our Ace4Energy Team and start selling ACE right away!
There are SEVEN ways to make money as a Saba Associate!   http://ace4energy.sababuilder.com/goland1
You can view all the ways to make money with SABA, under the "opportunity" tab. 
There are no contracts and no monthly quotas. You can work as little or as much as you please. 
We have an awesome team and would love to help you become successful with SABA!
Enrolling is easy. You can either call me at (615) 322-5201 and I can take your info over the phone or you can enroll online here:
http://ace4energy.sababuilder.com/goland1
$59 Starter Pack: The Natural ACE Weight-Loss Starter Kit includes 1 bottle of Natural ACE (60 cnt) , 7 – 2 count trial packs and more, and is a good way to get your business started.
$109 Starter Pack Plus: Natural ACE Weight-Loss Starter Plus Kit includes 2 – 60 count bottles of Natural ACE and 14 – 2 count trial packs, offering a better way to build your business.
$235 Accelerator Pack: Natural ACE Weight-Loss Accelerator Kit includes 6 – 60 count bottles of Natural ACE, giving you everything needed to kick start your health regimen and your business.
$435 Momentum Pack*: Natural ACE Weight-Loss Momentum Kit includes 12 – 60 count bottles of Natural ACE, and is the best way to build your business. Plus you now qualify for Momentum Pay, which offers FOUR generations of matching bonus after you enroll only four new qualified team members!
*Best Value
Next, Choose Your AutoShip (not charged until it ships a month after your enrollment):
$50 AutoShip, Qualifies You For 10% Pay Leg Commissions
Includes:
1 – 60 count bottle Natural ACE & 7 – 2 packs
$100 AutoShip*, Qualifies You For ALL Levels Of Commissions, ability to promote, and you will be able to be included in our Bonus Pools!
Includes:
2 – 60 count bottles Natural ACE & 14 – 2 packs
*Best Value
Once you have submitted your enrollment, I will process it and send you a confirmation email with your username and password for your Saba site. You will be able to log into your very own website to place your orders and learn about the Company!
Your order will be shipped out right away and you will be on your way! 
We are so happy that you found ACE! We are very proud to represent a company that has such awesome products and truly cares about their Customers and Distributors. We love being able to share ACE and have seen the SABA products help so many people by improving their over-all quality of health.

      Don't forget to visit our Facebook page for great before and after pictures and health meal plans as well as fitness tips.
 

If you have ANY QUESTIONS, you may reach me at:
Steven & Donna Sigmon
Independent Distributors
ACE: Appetite Control & Energy
Call Me: 615-332-5201
Text Me: 615-332-5201
Email Me: ace4energy@gmail.com
Facebook Me:  Ace4Energy Facebook Page
Twitter Me: http://www.twitter.com/ace4energy
Google Plus: https://plus.google.com/+DonnaSigmon
Pinterest Me: http://pinterest.com/ace4energy